Breast Augmentation
in Miami, FL
What is Breast Augmentation?
Breast enhancement, also known as mammoplasty or breast augmentation, is a procedure that increases the size of the breast or improves breast volume, generally through the use of breast implants. Size matters greatly when deciding on the correct breast implants to choose from. Many revision surgeries are done to change breast implant size because the patient was unhappy. Frequently, the patient did not have enough input in her breast implant sizing and selection. All breast augmentation patients should play an active role in their breast implant selection. Dr. Lampert takes the extra time and listens to the patient's goals in order to better achieve patient satisfaction and the best personal outcome and desired breast volume.
Before & Afters
View All
---
Why choose Dr. Joshua Lampert for breast augmentation?
There are many aspects to successful breast enhancement surgery. Women seeking breast augmentation in the Miami area should ask their prospective surgeon many questions before deciding on who will perform their surgery, including what type of implants will be used. Dr. Joshua Lampert, a board certified plastic surgeon practicing in Miami, sees many breast implant revision patients who have been victimized by unrealistic promises made by slick ads or volume-based clinics. In stark contrast, Dr. Lampert prides himself on spending a substantial amount of time with each patient to thoroughly discuss the procedure, recovery, type of implants and potential risks. Anyone looking to enhance their appearance through breast augmentation should only trust to have their surgical procedure performed by a board certified plastic surgeon.
Patients with different-sized breasts or breasts that are asymmetrically placed on the chest will also benefit from mammoplasty. Once the decision has been made to have breast augmentation, there are several questions that need to be asked and answered in order to ensure a fantastic result.
Breast Surgery Patient Testimonial
What are the benefits of breast augmentation?
Breast augmentation surgery provides many benefits for patients:
Enhances breast symmetry, size and shape
Can provide natural-looking and feeling breasts
Very long-lasting
Implant choices are varied, giving many options
Achieves more feminine, curving proportions, and a more attractive fit in clothing
Renews breast volume after breast deflation from pregnancy and childbirth
Restores breasts after a mastectomy
Improves confidence
Am I a candidate for breast augmentation?
Breast augmentation is for women who would like to enhance the size and shape of their breasts. Ideal candidates meet the following requirements:
Are generally in good health
Have no serious medical concerns
Do not smoke
Are not currently taking or can stop taking blood-thinning medications
Breast Augmentation Patient Testimonial
"I went to Dr. Lampert with a concern I had from a breast augmentation done 4 years ago by another surgeon. (The first thing I noticed as I walked in was his beautiful and clean office!!) He explained why it happened and why it was causing pain. Dr. Lampert was very thorough at explaining the surgical options for me and weighing the pros and the cons, nothing felt rushed, the entire staff takes their time to make you feel at home. The consult was extremely informative(more than any other surgeon has ever taken the time to explain to me in the past), I felt comfortable and was able to make an informed decision. I moved forward with surgery, the entire surgical team was great! Everyone is welcoming and easily puts any nerves at ease. I am SOOO happy with my breasts and feel more confident than ever. The recovery was so easy, minimal pain and little discomfort!! I am 2 weeks post op and feeling great! Thank you Dr. Lampert, Natasha and the entire Miami Surgery team for making this such a great experience for me!!"

E.H.
Breast Surgery 101
Breast Implants: Size and Shape Matters
One of the most stressful decisions for our Miami breast augmentation patients is how to determine the right breast implant size for their individual goals. Going too large or being too conservative can be equally disappointing. Dr. Lampert is aware of this dilemma and has made it as easy as possible for patients to visualize how they will look within a range of implant sizes.
How to pick the right size implant?
There are many different methods to achieve this visualization. Dr. Lampert uses various sizer implants that can be inserted into a sports bra. This gives patients a glimpse into how they would potentially look in clothing with various sized breast implants. Patients can also view Dr. Lampert's before and after photos of patients with similar breasts and body structure.
"Test-Driving" your implants
Another old fashioned classic sizing method used is to fill a ziplock bag with various amounts of dry rice and then make sure to express all the air from the bag. The patient can then stuff these dry rice-filled bags into her sports bra and wear a tight t-shirt over this. The patient can play with various amounts of rice, until the perceived desired volume is achieved while looking in the mirror. The selected bags can then be brought into the office, and Dr. Lampert can measure the volume of rice in the bag. While not a perfect way to decide, this will give the patient a chance to try out or "test drive" their new size at home. Dr. Lampert uses this information along with the patient's chest wall measurements and intra-operative sizing to determine the perfect implant selection. The patient's opinion and personal goals are always of the utmost importance.
Breast Augmentation to fit your body
Breast implants must fit body structure, the breast envelope, and chest wall in order to look and feel natural. For example, a petite woman with small breasts and a small rib cage frequently won't look natural with very large breast implants. A very large and wide breast implant in a very small breast has a higher probability of implant visibility due to the base or width of the implant. Higher profile implants have a more narrow base, and would be a better choice for petite women who want a larger cup size and larger breast implant volume.
After going through the consultation in Miami, the sizing process, and meeting with Dr. Lampert, patients are usually confident that they have chosen the right size and that they will be happy with their new look.
Silicone or Saline Implants?
There are two primary types of implants: saline and silicone. There are positives and negatives with both types, which we will cover here.
There are several types of silicone breast implants available. Some of the newer silicone breast implants are called "gummy bear" implants. They are firmer and shaped more like a natural breast. This shape can help with certain patients, including those who have some mild breast droop or ptosis. The other advantage of "gummy bear breast implants" is that they contain a highly cohesive silicone gel filler. This highly cohesive silicone gel tends to stay in place, even if the gummy bear implant shell ruptures. These implants are stiffer and less flexible than prior silicone gel implants.
Silicone Implants
The "standard" silicone gel implant (non-gummy bear) has been used with great success and safety in the United States for over 20 years. This implant is softer and less dense and is generally round and more pliable. This allows it to be placed using a significantly smaller incision than that required for the gummy bear implant. These implants come with a smooth shell, or a textured shell which can help prevent implant migration.
Saline Implants
Saline implants are made with a silicone shell that is filled with saline or saltwater solution. Saline implants offer a very distinctive advantage: they can be filled after the outer shell is inserted. Since the implant is filled after insertion, an even smaller incision can be used. Saline implants may have more movement, rippling, and may not feel as natural as silicone implants.
Breast Augmentation Recovery
Although it is very safe and very commonly performed, breast augmentation is nevertheless a significant surgical procedure. The recovery period that follows it is uncomfortable, but certainly bearable. While the recovery experience varies from patient to patient, you can typically expect the following:
Immediately after surgery, you will feel groggy and less attentive than usual, having just woken from anesthesia. As the anesthesia hasn't yet fully worn off, you won't feel strong pain, but more of a deep soreness. You will need someone to drive you home and, ideally, to stay the night with you.
The first 3 to 5 days after surgery are the least comfortable. Strong pain medication is prescribed and works wonders, however because these narcotics also prevent regular bowel movements, they should be discontinued as soon as is feasible, being replaced by higher doses of an over-the-counter pain medication.
During this time, tightness and aching should be expected in the breasts, neck, back and shoulders, and bruising, swelling and a small amount of bleeding is normal. If you experience anything unexpected or have any concerns or questions, please contact us. Taking a short walk or two daily, eating a healthy diet, getting plenty of rest and staying hydrated will help ease and speed up the recovery period.
By 1 week out from your surgery, you will likely feel only minimal discomfort, managed by OTC pain medication. Driving is usually possible toward the end of the first week of recovery, as is returning to a light, non-physically taxing desk job. Rushing to return to work, however, isn't advised; please allow yourself the time to rest and heal if you need it.
By 10 to 14 days out, you'll likely have gradually returned to your normal routine, gradiently increasing your range of motion, and the activities you can perform, avoiding any sudden movements of motions that cause you sharp pain. Upper body exercise and all lifting should be postponed for 4 to 6 weeks.
Full recovery is usually achieved in 6 weeks.
Risks of Breast Augmentation
Any time that skin is cut or an incision is made into the body, certain risks are inevitable being taken. The risks most commonly associated with breast augmentation include bleeding, bruising, and swelling. There are also some cosmetic risks of breast augmentation that include possible surgical complications, seroma (fluid accumulation), asymmetry, infection, or implant rupture, which indeed emphasize the importance of only ever seeing a board-certified plastic surgeon. As a board-certified Miami breast augmentation specialist, Dr. Joshua Lampert takes every precaution to ensure the safest, most seamless surgery possible, and his many satisfied patients are a testament to both his safety protocol and his keen aesthetic eye.
Fat Transfer Breast Augmentation
Fat transfer in breast augmentation has become popular due to the double bonus of using excess fat from another area and transferring it to the breasts. The fat is extracted using liposuction, at which point it is purified and re-injected into multiple locations in the breast. A significant amount of fat is needed and some fat does get absorbed by the body. There is a gradual loss of fat grafts with time. Repeat injections can help to correct this issue. Fat graft to the breast gives a very natural look and feel, but the degree of size increase does have limitations.
Fat Transfer Breast Augmentation with Dr. Lampert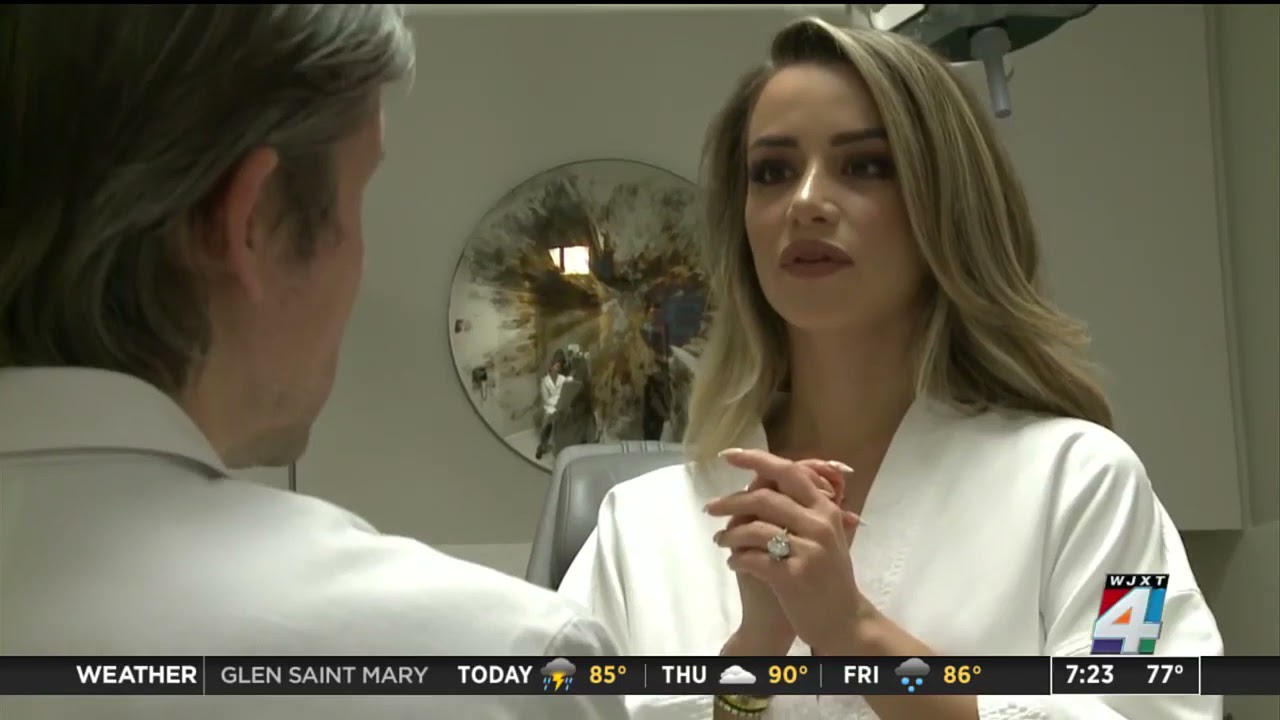 What is the next step?
Contact Dr. Lampert for a consultation to discuss breast augmentation in Miami, from conception to the fulfillment of beautiful, natural-looking breasts. In this way, he can help you achieve your goals. Deciding to have breast implants is very personal. Dr. Lampert has the surgical skill and artistic ability to create the most natural-looking augmented breasts. Dr. Lampert is locally available in Miami to provide you with a safe and supportive surgical practice.
He will fully explain the procedure, the recovery time and any other concerns. Dr. Lampert only sees a small volume of patients daily in consultation. This allows him to take his time and ensure that quality is kept high. He prefers that his patients have access to him, as he makes himself always available. Find out why Dr. Lampert is one of the leading breast augmentation surgeons in Miami and why his patients refer their friends and family only to him.